Are you ready to let go of fear and control, and powerfully impact the world with your unique gifts.
Head to Heart is a 10 week online Group program for women committed to breaking free from limitations of their mind and powerfully stepping into their life's purpose.
Head to Heart is guiding you to take your big leap in life.
If you want to know your end transformation I can't tell you, only that letting go of control and the outcome and falling in love with the process is where the healing and magic lies, as this is SO unique to everyone joining the journey, but the purpose of the Head to Heart journey is giving you a love nudge in the right direction to create and manifest a life that you love from learning how to master your mind, building this resilience and strength in your mind, heart and nervous system is the most profound and important work you will ever do.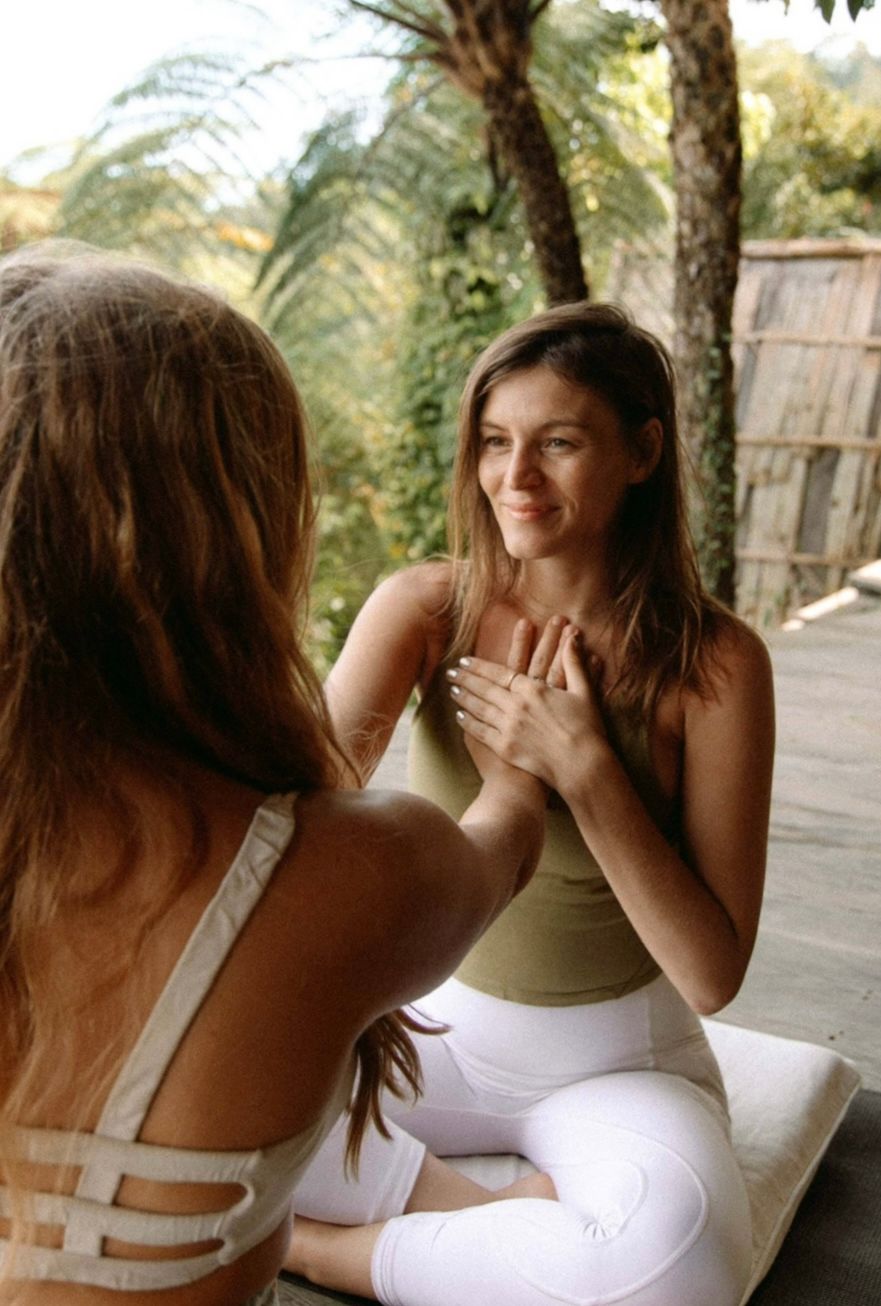 Unlock unshakable confidence and learn to embrace fear.
Through Head to Heart program you get to move beyond the fear of the unknown.
As you build the inner faith, and trust that is required to finally walk your own Dharmic path and lead yourself from a powerful and healed place of wholeness.
You were born to do something extraordinary, to be the leader of an incredible life, not to be stuck in a conventional one. You know it, you feel it in your bones, but fear has been holding you back from taking that leap of faith in yourself.
As you take the big leap to learn how to lead with your heart instead of your head, you will become a force of nature that is here to serve, love and devote yourself to conscious leadership within your purpose, your friendships and your intimate relationships.
Your journey home is to remember how beautiful, powerful and wise you are, and it is our priority to guide you to integrate self-care, and healing practices that allow you to awaken and bloom like a flower.
The spiritual path of awakening takes devotion, dedication and compassion. We are giving ourselves permission to awaken from any behavior, thoughts or unhelpful habits that have been causing us to stay asleep. At the heart of this mentoring program, there is a natural unfolding of deeper inner healing within the body, the mind, the spirit, and the deep sense of self-love that will be cultivated over this period. This attunes your nervous system and intuition towards taking radical responsibility for your needs in the moment, and finding the medicine you need in this exact moment.
The journey gives you the exact tools to give yourself the medicine of the moment, so you have the tools and confidence to guide yourself from a place of contraction, heaviness, fear, into feelings of ease, release, lightness and eventually returning back to your optimal state of being, which is love, joy and happiness.
This is the journey of my own lifelong initiation, this has been my invitation to create and manifest the life of my dreams and allow my devotion to feminine healing and raising consciousness, as well as learning to become heart-led in life, relationships and leadership be the ripple of change that I wish to be in the world and the medicine that I wish to share and serve for those who are ready.
Close your eyes and put your hand to your heart, and tell me, are you ready to have this in your life:
Are you ready to close the door on your old life of "conventional living", to let go of being comfortable and embrace the fear of discomfort so that you can dive into a new life as a whole version of yourself?

Are you ready to wake up in the morning feeling a deep sense of grounding and safety in your life and decisions, because you now have the tools to handle anything that comes your way?
Are you ready to love yourself completely, to bring to the surface that which you previously hid so that you can shine a light on it and embrace your imperfections for what they are, the beautiful recipe that makes up who you are?

Are you ready to close the door on your old life of "conventional living", to let go of being comfortable and embrace the fear of discomfort so that you can dive into a new life as a whole version of yourself?

Are you ready to wake up in the morning feeling a deep sense of grounding and safety in your life and decisions, because you now have the tools to handle anything that comes your way?
From a topless bikini waitress seeking love & validation from others, to supporting women on their self-healing journey through the power of self-love.If I can make the leap, so can you.
I opened my purse, took out the money, and laid it all out on the bed around me. I had made more in one weekend than I had made in an entire life back home in the UK. I had just got off a million-dollar yacht in the Perth harbor where I was working as a topless bikini waitress. I looked at the money and had an urge to spend it all, right away! I called up my sister who was visiting and took her on a shopping trip! We burned through the money and before I knew it I was back on the boat, handling around cocktails with a smile plastered on my face, keen to make sure every man felt loved and appreciated. (I just could not hold the money as I felt guilty receiving it)
My friends were always a little bit jealous haha, I had the best job in the world they would say! It was so comfortable! All I had to do was look good, smile and make others feel amazing and I would have a fat stack of cash at the end of the week. I paid little attention to the future and firmly settled into this luxurious comfort.
Then why did I feel off? Why did I feel that they envied and judged me at the same time? I had this nervous knot in my tummy that would not go away. Each time emotions that felt way too strong tried to come to the surface I ignored them, I decided not to deal with the "uncomfortable" emotions and ran instead to distract myself with pleasurable things! Always spending money on others to people please, food, sex, drinks, parties! I started gaining weight, had emotional eating and physical symptoms started to creep in.
One night I came home, snuggled into bed and tears started running down my face. I didn't even know why! I felt fear rising in my chest, fear of facing these unknown emotions I had kept at bay for so long. It was exhausting! So I let them in. I surrendered to the fear and it consumed me. Were people judging me for my job? Were the other girls on the boat jealous as I was making more money? Should I be more or less flirtatious on the boat so that the men liked me more and I didn't want to outshine the other girls and get in trouble? All this fear of judgment and "not-enoughness" rose up inside me like an angry snake! I felt anxious and fragile, I needed to get away and have a break.
I boarded a plane around the world with my Ex partner at the time who was in Australia, we saved up and went travelling, after 5 months travelling, my visa for Oz got declined, so I could no longer enter Australia, I was banned for 5 years, we had to end the trip to the beautiful Island of the Gods, Bali, where we did long distance for one year, so he could come visit me from Perth which wasn't so far away. I ended up breaking up with him, needing to be set free, this was where my healing journey began.
The moment I started my Yoga spiritual quest at The Practice Bali with my first Teacher Octavio, being on sacred ground in Bali, I felt a shift in my energy. More emotions came up - though this time I decided to not try and run away from them or cover them up with pleasurable things. I sat with them and watched what happened. I spent many months in Bali working on myself and in that time I dove deep into the recesses of my heart and found that the reason I was afraid of dealing with my emotions was because of the truth that was buried within them. Through the beautiful practices of meditation, dance, Tantric Hatha yoga, Ayurveda, and many plant-based medicine ceremonies later, I realized that my truth was that actually, I did not trust myself fully to make the right decisions for myself.
I did not love myself enough to make decisions that felt good for me, and so I sought out comfort in relationships and in my career so that I didn't have to make these hard decisions and feel fear and discomfort.
I sought external validation and love from others to make me feel whole. I relied on others to make decisions for me, to provide for me and in doing so I gave away my power in the hope of pleasing them.
As I started my healing journey my whole life improved, I went vegan, I balanced my weight, I started to sleep better, I had better sex and I started to shine! I realised that I had been afraid to listen to my heart and make decisions from that sacred space. I realised that I had always been GIVING to others in the hope of RECEIVING comfort, safety and security in return - but at the end of the day I realised that I needed to find this within myself. I needed to change my lifestyle, to move away from comfort and get comfortable in the discomfort to find my truth and my path - and that I did.
I realized that my heart and inner wisdom had known all along that I was not following my path, that it had been sending me signals but I was not in tune with my body and heart to properly recognize them. It was through the beautiful spiritual practices as well as being in a long eye-opening relationship, everyday meditation, Tantric Hatha yoga, and Ayurveda, sitting in ceremonies with mother Ayahuasca, that I was able to heal my heart and my body and finally hear the whispers of my intuition. Once I tuned in I was able to fully trust myself. I recently stepped out of a three relationship that has kept me in my comfort zone and now I am following my heart. I started a business even though it scared me so that I could guide other women to listen to their own whispers, find wholeness from within and face their own fears.
Over the last 5 years, I have lovingly crafted "Head to Heart" from guiding many private clients through fear and into love. This is a gift that I wish existed when I was going through my own journey back to the heart, to trusting myself, and coming into my confidence. This is a journey back to your truth and to embrace the fear of change.
"Head to Heart" is so unique, powerful and precise because it allows you to change the fearful programming that has kept you stuck in the comfort zone, and it will transform you to push through this barrier with confidence and trust in yourself.
In 10-weeks you will learn how to embrace fear of change, and clear your mind and your body to allow those gentle whispers to come through as guidance from your intuition. You will be able to recognise the signals that you are not fully in alignment with your purpose, that you are choosing comfort over embracing fear, signals such as digestive issues, hormonal imbalance, relationship or intimacy blocks - as all of these are direct signals that something is off.
When comfort no longer feels good, you know it is time to awaken, when you are no longer satisfied you know that you need to explore deeper.
It's time for you to listen.
This program is holistic and focuses on body, mind, and spirit - because it takes looking at your life as a whole to becoming whole.
Most coaching programs focus on one area, and from my experience this isn't enough to move you beyond fear and to, stepping into your power, feeling mentally clear, and connected to your Self, this takes love, guidance, and other forms of additional support.
The program is integrating Body, Mind & Spirit, first we begin with Ayurveda, clearing out the toxins, blocks that prevent you from feeling energised, alive and fully connected to yourself, secondly we focus on healing the mind, the limited programs, that prevent you from trusting yourself, you decisions, stepping into your power, which is when you connect your with your spirit, when you are in this flow, love, abundance, insights, everything is aligned as you are living your purpose, connected to your truth, and living by your design.
LIFE LESSON 1: Love lets go, fear holds on.
Energy needs to flow to grow and the body is the block! The body remembers and holds on to old programming and emotions, so we need to start here to release the old and make space for the new. Come away from this month with boundless energy, smooth digestion, strong immunity and more joy - ready to digest life!
Through the Ayurvedic cleanse process let go what no longer is serving you, physically, mentally, emotionally. I will guide you through a powerful process that will create the space, energy, and love for greater connection to Self, your power and clarity on your purpose.
Embrace an Ayurvedic lifestyle
Learn how to effectively cleanse the body
Step away with a strong digestive system
Increase your energy levels
Learn and incorporate daily self-care practices
Balance your hormones naturally (With Guest speaker Pauline)
LIFE LESSON 2: You don't get what you want in life you get who you are being.
Through learning to apply a regular pranayama, meditation practices, you will learn how to create the inner peace, this strong foundation, ripples out into everything you do, your sleep improves, your mind is sharp, you feel greater physical and mental resilience, and you will become fully rejuvenated by these practices. All you have to do is continue to practice and let them speak for themselves.
We explore Yogic therapy tools, apply somatics, movement and breathe to release emotion and stagnant energy from the body.
Learn how to breathe properly to build a strong immune system that prevents disease.
Learn how to create a meditation practice that will bring you back to Self.
Learn the Art of chanting mantra to heal your mind and create an avenue of channeling your expression.
LIFE LESSON 3: Vulnerability is your superpower.
You will learn how to create daily spiritual practices that focus's on your individual day to day needs. This level of awareness and connection to Self is what creates a balanced nervous system, resilient immune system, and a deep trust in your body's innate healing intelligence, there will be a profound healing that takes place between the mind and the heart that will allow you to come back to your inner wisdom.
Learn my signature process that helps you overcome any limiting beliefs.
Learn how to create a powerful vision that will lead you to manifesting your heart's desires.
Learn how to deepen your capacity for self-pleasure, intimacy and confidence with your body. (With Guest Speaker Silja)
Learn how to speak your truth, voice your boundaries and desires and cultivate unshakable confidence.
LIFE LESSON 4: Rest and let love, peace and purpose flow through and to you.
When you feel good you do good, as a result, your overall health, energy, digestion and hormones will return to balance, but most importantly your mind will find rest when you prioritize these pillars into your daily routine, as you learn how to keep filling your cup until it overflows.
From this place of joy you can give and share your brilliance with the world, as you accept, know and love yourself more fully, allowing you to live from the heart, as you have stepped into your power, peace and purpose after the 12-week container.
Learn specific ancient techniques that will allow you to cultivate and embody self-love.
Discover your Dharma code which is your unique blueprint for living a beautiful life.
Learn how to balance your feminine and masculine energy in work, life & relationships.
Attract the ideal partner, and deepen your relationship with your Self, the more your embody self-love the greater your relationships will become.
When you join Head to Heart, you will walk away with…
Increased focus, giving you the clarity to move forward in life with full trust that you are supported on your dharmic journey.

A powerful support group of women for life who have been on the self-love and healing journey as you!

Unshakable confidence and belief in yourself and the gifts you have to share.

Tools and practices that you will carry for the rest of your life that will mean you will always be prepared to navigate change in a clear, precise and optimistic way.

A proven framework powerful that allows you to overcome the obstacles so that your next level growth is never sabotaged.

Opportunity to first join the Head to Heart retreat I will host, you get first priority for women on the intimate coaching journey.
Head To Heart Logistics
The first 3 ladies who join us will receive 1000 euros of the investment, if you book a call before May 1st.
We start the program the May 22nd and finish 24th July 10th.

Weekly 90-120 min sessions online.

Access to "Head to Heart" Kajabi platform where all worksheets, self-care practices, Ayurvedic cleanse and daily meditation videos are held.

Receive access to the Heart-Space Monthly Membership Women circles or Workshops.
Group Coaching Program
€2500 EUR
Intimate Package
€3500 EUR
Once you submit an application, we'll review, and if you're a good fit, invite you to a call to discuss the program more and answer any questions you may have.
Head to Heart is the program for you.
If you want to come out of a contracted, dark and void like space and have the breakthrough you want you may want to read this…..
Here's the thing that will hold you back from the love, connection, opportunities and abundance you truly desire – aka you stepping into your power and purpose and the ripple effect of what it will bring.
You're too independent.
You're avoiding asking for help, thinking you can do everything yourself.
You're an overthinker, you're holding on to your old identity which is keeping you stagnant.
You're not moving. You're static. You're avoiding the one thing that will expand you.
You've settled for your smallness identity
Your emotions are overwhelming and you haven't learned how to regulate them.
AND MOST OF ALL
Pain is inevitable, and suffering is optional, and the definition of insanity is doing the same thing over and over again and expecting different results.
You're waiting to feel courage to take action, but you have been stuck in fear and freeze mode for a while now the more you avoid and procrastinate even taking baby steps the more you hold on to the belief " I am not good enough / worthy enough to live the life I desire.
I repeat
The pain of growing pains is inevitable, yet staying in the darkness is called suffering. Confidence comes from taking action. Your big leap in life requires you to get out of your comfort zone and find your edge. Growth will be uncomfortable but what is more painful is staying the same.
Many people have turned down the opportunities to seek guidance and invest in my Head to Heart program and transform their life, relationships, and grow exponentially in their gifts and purpose because they didn't feel "ready" and then a year later are in exactly the same place because they didn't just do it.
Many Women join my community and invest in hiring me privately and then complete the program saying, "I'm so grateful to have taken the leap as this level of support has given me the belief that " I am good / worthy enough and I can do anything I put my mind to.
Once they said YES I have seen Women
Women give themselves permission to reinvent themselves.
Women who have bought a van, and gone traveling instead of buying IVF and having a baby from fear of being alone.
Women who have opened their hearts, and got into beautiful conscious relationships after years of being in unhealthy toxic ones.
Women who have transitioned from their 9-5 day job, took the BIG LEAP, and followed their hearts and live now in their purpose and have the freedom to work from home, travel and create an abundant life.
Women who have increased their self-worth, confidence, and revenue through shifting their beliefs and experiencing a BIG Internal leap.
Women who traveled the world to meet new friends they met inside our community.
Women who now have the tools to bring themselves out of a dark place, and jump back to love, gratitude and joy after hardship and challenge.
Will I get to watch the replay if I can't join every live?
Can I pay in monthly Installments?
What time will the online live calls be?
How long do I receive access to the content?
Is there any further cost I need to pay out for?
Are there any bonuses for people who pay upfront?
How much time do I need to invest for this course?
I have a different question, or I am not sure if this program is for me?